Hi gothlings, OK, so I got a little excited, lol, but when two of the best goth skin makers (IMO at least) both release skin gifts at the same time its enough to get even the darkest souls excited!!
This is
Miasnow's
offering, a beautiful skin with deep red lips, zomg, so damn hawt! lol
(Please click on the pictures to make them bigger)
Also worn;
Dress - Rotten Defiance (Mellow Yellow hunt gift)
Hair - House of Munster
Tattoo - Miasnow (previous hunt gift)
And this is the also fabulous skin giftie from
Nomine
, this comes in 6 tones, tone shown is the latte one :)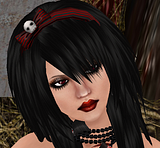 Also worn in thie pic:
Dress- Rotten Defiance (Cant Fight the Moonlight hunt item)
Go grab em while you still can!!
Wednesday xx
Modelled by:
Mildread Gloom