Hiiii to all my American gothlings, I have got some 4th July gothly lateness to show you!! So, less chatter, more picccies!!
The awesomeley unique and talented Putrid Gloom of
Show Me on the Doll (SMOTD)
sent out this amazing 4th July themed gifite to her sub-o members last night, and if you are quick you can still grab it from the history!! Also, she did promise to send another gift if enough new peeps joined her SOM, so if you are not in it, go slap it NOW!!! lol
Theres something silly like, 52 pieces to this gift, so you can wear it in a bazillion different combinations to get the look you want, here is just 3 possibile combinations.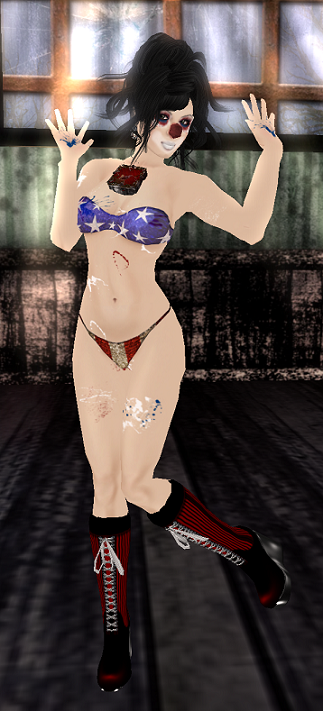 Other items worn:
Skin
- 'Clownin around' - F'd Up giftie sent to TTG grp, also comes with clown nose shown and shape (not shown).
Shape
- 'mytha' shape - FREE group gift for F'd Up members, which is still in notices, go grab it today!!
Hair
- 'W&Y Model Hair gift 3' - absolutely gorgeous dollarbie hair by Waka & Yuki, you should be able to find this on the back of the tp step when you enter the store, though I got this ages ago so not sure if its still available
Boots
-'Sketched boots' -
Dilly Dolls
, not free, but totes awesome!!
Poses - free SOM gift from Porcupine Love.
Happy Independence Day!!! (belated, sorry!!!)
Wednesday xx
(slurls only provided for approved TTG stores, but non approved stores are searchable, if you can't find them, im me inworld - Wednesday Placebo)